UBOCELL SOFC "Generator"
Self-contained SOFC generator for operation with hydrogen or reformates and air. Nominal power output between 600 and 800 W depending on operating temperature. 38-cell stack of 100 x 100 mm2 footprint (SOFCMAN). Stack heaters inside stainless steel container, H2 and air tubes, power output conductors, 110 or 220 VAC heating cartridges, four K-type thermocouples for system control and temperature monitoring at different locations. Afterburner and heat exchanger for water heating. One UBOCELL SOFC Control Box is included in the delivery.
Integrated heaters for operation without external heating inside furnace.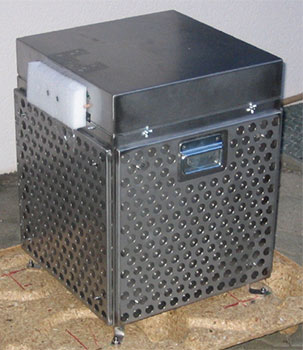 Price: CHF 23,300 (≈ EUR 21,600 ≈ USD 25,700)
Technical Data
| | |
| --- | --- |
| Dimensions L x W x H: | 400 mm x 400 mm x 600 mm (15.8" x 15.8" x 23.7") |
| Weight | 25 kg (55 lbs) |
| Performance (700°C): | OCV ≈ 32 V, N = 600 W at 20 V for H2 and air |
| Stack | SOFCMAN, 30 cells, anode-supported |
| Gas supplies: | H2 and air supply on the back side below the box cover |
| Gas exhausts: | Anode and cathode exhaust on  the back side below the box cover |
| Air supply | 10 mm or 3/8" tubing |
| H2-supply | 10 mm or 3/8" tubing |
| Exhaust | 16 mm or 5/8" tubing |
| Power output | 600 W at 20 VDC and 30 A |
| Stack location | In lower part of container surrounded by 100 mm (4") high performance thermal insulation wall |
| Thermocouples | Four K-type for temperature control of stack, air supply, exhaust and upper section of system |
| Afterburner | Integrated with air pre-heater |
| System heater: | Six heating cartridges with controlled power supply at 115 or 230 VAC |
| Temperature control: | UBOCELL SOFC Control Box |
| Start-up time: | Two hours |
| Endurance: | More than 100 hours and more than 20 cycles |
| Lead time: | 3 months |