Products
UBOCELL SOFC Demonstration Kit
The standard 16-cell UBOCELL SOFC Module forms the heart the UBOCELL SOFC Demonstration Kit. It is designed for table-top demonstration of the SOFC technology at universities, training centers and research laboratories.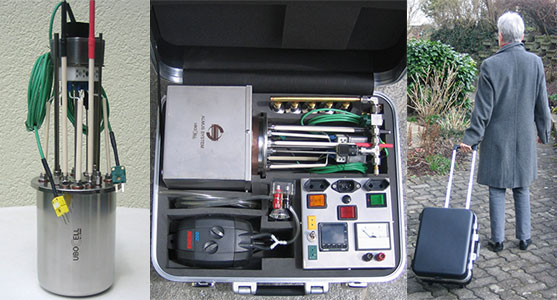 The kit contains all components needed to demonstrate the essential features of an SOFC such as start-up heating, dependence of power output on temperature, system response to changes of air and fuel flow rates, and operation with different fuels (hydrogen or reformates from hydrocarbons and alcohols). Also, the unit can be used for a wide range of qualitative experimental investigations.  
The kit comes in a smart trolley case with segmented compartments for safe storage of the following components:
16-cell UBOCELL SOFC module with integrated air heater and 4 electric heating elements
Temperature control box for module heating with 230 VAC (or 110 VAC) line power
OMRON E5CC temperature controller
Two K-type thermocouples for temperature monitoring inside and around the stack
Hot box for table-top operation
Air pump with connecting hose
Hydrogen supply set including 5 manifolded metal hydride storage containers, valves and connecting tubes
DC voltmeter for monitoring the stack voltage. Performance demonstration set (3 lamps)
Power cables and tubes for air and fuel supply
Operating instructions
The UBOCELL SOFC Demonstration Kit also includes power cables for 230 VAC connections, gloves for handling hot items and a pressure hose with adapters for filling the metal hydride storage set with hydrogen from hydrogen cylinders, Swagelok adaptors for metric to ¼" tubing, operating instructions.
All components needed for the demonstration of power generation by a Solid Oxide Fuel Cell are contained in the case. The hot box provides sufficient thermal insulation for short demonstrations. Additional thermal insulation is needed for longer experiments.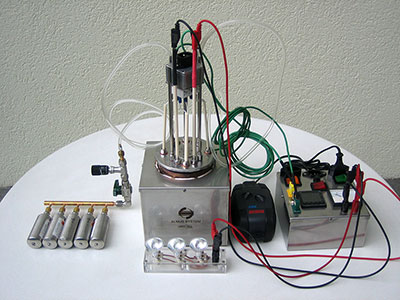 Legend of the demonstration setup:
From left to right: Metal hydride storage set-up for 10 g of hydrogen, UBOCELL SOFC Module inside thermally insulated box (center back), two K-type thermocouples for monitoring the temperature inside and around the stack, three 20 W 12 VDC lamps for demonstration of power output (center front), air pump, control box with temperature controller (OMRON E5CC), DC Voltmeter, receptacles for both thermocouples, line power input (standard 230 VAC, by request 110 VAC) and heating power (230/110 VAC) and air pump power supply (230/110 VAC, 50/60 Hz).
The UBOCELL SOFC Demonstration Kit can be operated by untrained persons following the instructions. It takes about three minutes to set up and connect the system. The module will reach 600°C in about 20 minutes. With hydrogen and room temperature air the unit will generate about 10 Watts at 12 VDC at that relatively low temperature. Up to 80 Watts can be generated at 700°C.
The price for this complete UBOCELL SOFC Demonstration kit: CHF 9,600 plus postage and handling.