Products under Development
Almus AG is also working on the development of versatile SOFC plug-in module in the low kW range. For this application the circular "SPIROCELL" design is used. The unit can be operated on natural gas or propane. With adapted fuel conditioning systems it may also be operated on biogas, methanol or commercial hydrocarbon fuels.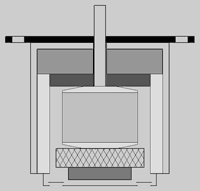 The SPIROCELL Module will consist of a compact SOFC stack, start-up heater, air heat exchanger, blower, fuel supply, fuel conditioner, valves and controls. One attractive application could be the use of SPIROCELL Modules in micro co-generators for residential buildings and commercial applications. However, the module may also be integrated into a variety of systems as suggested below.
Portable
generators
Stationary
generators
Residential
cogeneration
Automobiles, trucks,
buses, boats